My sheet of Oza arrived this morning. It looks like Oza is Xiom's take on the direction that Tibhar took with Hybrid K1 - a tacky, lower-cost ESN rubber for the Asian market. I picked this sheet up from Ali for $27 - no grumbles about the price obviously!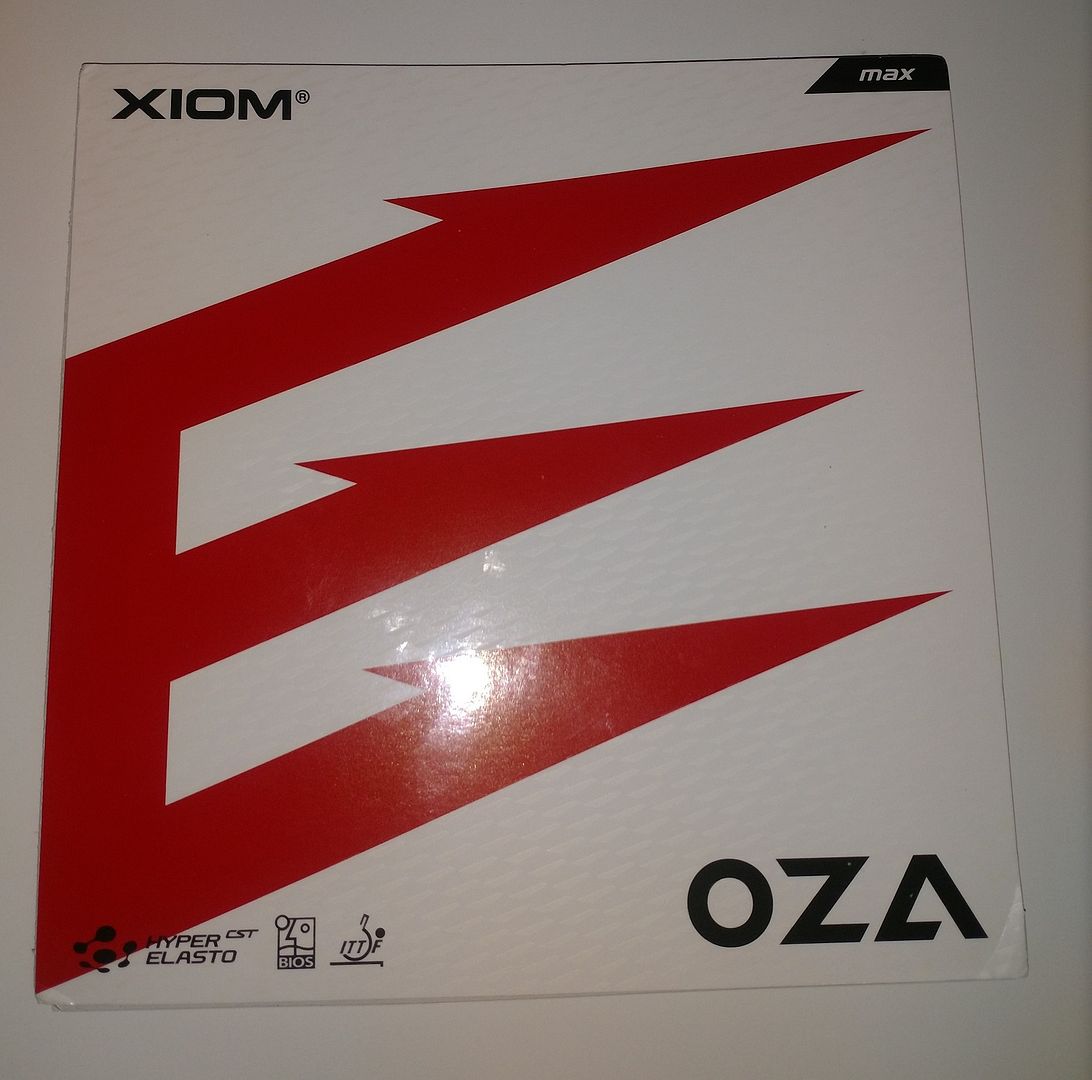 Those last two images are taken from Ali - I just can't get decent close-up pics with my phone.
Packaging is basic ESN fare - just a folded piece of cardboard. The rubber has a thin plastic protection sheet - not as nice as the ones you get with K1, just a basic one that you see with tacky ESN products. Sponge is small-pore, and feels hard. The packaging is labelled up as "very hard". The topsheet feels medium, and is only slightly tacky - lower tack than K1.
It's heavy - 76g uncut, standard ESN size of 169x169. Better get to the gym!
Used Oza last night (on a Yinhe M201) for a short training session, followed by a league match. I'll put this into a more structured format after more time with the rubber.
The feel is very hard. The sponge is hard, and the topsheet is pretty hard too. The tack is there, but low. There's plenty of general grip available as well, so there's no ball slip.
It has very little catapult - it's just a tough old boot all round and the speed comes from the hardness rather than bounciness. It's incredibly linear - maddeningly so at times. Lower catapult than K1, Golden Tango, Tau. This makes it easy to use when close-in, but takes effort from further back.
Spin is good, with caveats. It works well when brush looping, opens up against backspin well, and is very solid when pushing. On medium effort loops it's underwhelming - arc is stable and medium arc but spin isn't amazing. On big shots it works better - but it takes a lot of effort and arm speed to get the best out of it. It's tiring to use.
Block and smash seemed very good for a rubber of this type - the low tack and hardness means you can still play a direct straight game easily in comparison with "proper" tacky rubbers.
It does have potential for a close-in controlled offense game.


Edited by AndySmith - 11/29/2018 at 6:43am